UfM Secretary General meets with entrepreneurs, think tanks, media and business organisations in Barcelona and Madrid
Barcelona, 29 January 2016. Secretary General Sijilmassi met with think tanks, media, business organisations and CEOs from top Spanish companies this week in Barcelona and Madrid. He was the keynote speaker at Instituto de Empresa Business Leadership Forum on Thursday and at Elcano Royal Institute on Friday in Madrid, and was hosted by the Euro-Mediterranean Institute in Barcelona (IEMed) in Barcelona, where he discussed the various challenges and opportunities facing the Euro-Mediterranean region, 20 years after the Barcelona Declaration, as well as the UfM's road ahead  following the strong political support received by the Ministers of Foreign Affairs during the UfM Conference on 26 November 2015.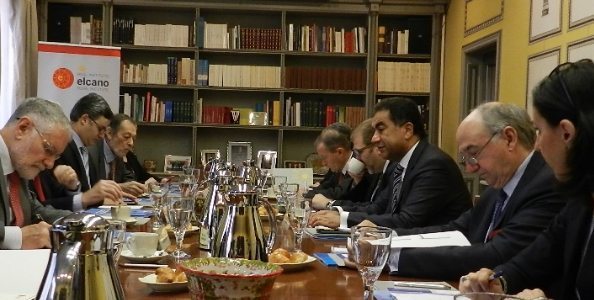 Participants were particularly interested in the role of the Union for the Mediterranean in addressing pressing challenges such as migration and terrorism. They positively assessed the impact of the 37 UfM-labeled projects and other development initiatives on regional integration, stability and human development over the last years.
"Never before has it been so obvious that the challenges we face today in the Euro-Mediterranean region require regional solutions", said Secretary General Sijilmassi in Madrid. And he added: "this regional dimension is embodied today by the UfM".